We've always said here at Spry Squared, that "technology and marketing are changing at the speed of light." Read this article and learn how and why social media is driving these changes, and how Facebook is a perfect example of that very phenomenon.
Most of us would agree that we never imagined how social media would change our lives. Even 19 year-old Mark Zuckerberg, Founder, and CEO of Facebook had no idea about the future impact of his company and social media. In a 2004 CNBC interview, he described "TheFacebook: as, "an online directory that connects people through universities and colleges through their social networks there." He also said, "You sign on, you make a profile about yourself by answering some questions, entering some information, such as your concentration or major at school, contact information [like] phone numbers, instant messenger screen name, anything you want to tell,"
Little did he know that in 2019, Facebook would have over 2.3 billion subscribers.
Social Media Provides Uncensored Open Forum for Discussion
In a recent Wired article, Facebook is struggling to adapt to the many challenges that have surfaced due to the very nature of social media. Social media was always intended to benefit the "good of the people" by providing an open forum where users can share and express their opinion on just about any topic including:
Social issues
Physical health
Mental health
Politics
Pets
Family
Relationships
Sharing experiences, hobbies, interests
And so many more…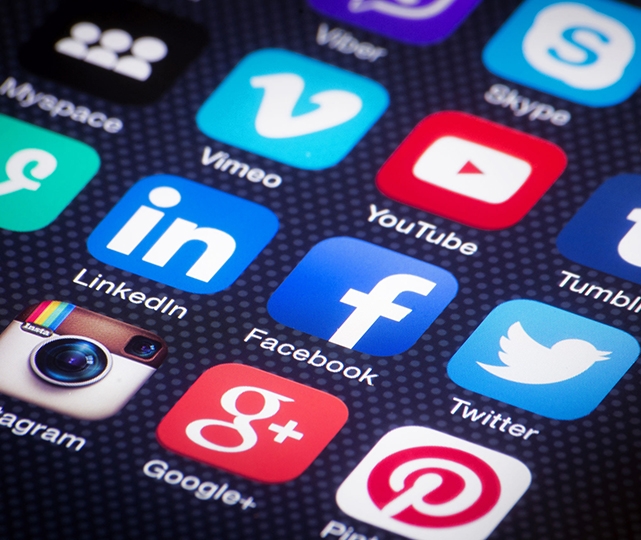 No one can argue that social media has brought us together. Do you really think you would have found your best friend from fifth grade without social media? It's a great way for families and friends who are separated by miles or even oceans, to stay connected. Social media is truly connectedness at its best. Marketers are taking advantage of the reach and ability to market to specific customers on social media. And it isn't limited to just Facebook. Other popular US channels include:
YouTube
Instagram (owned by Facebook)
SnapChat
LinkedIn
Pinterest
Reddit
Twitter
The Dark Side of Social Media
As much as social media has benefitted society, it has also created problems that we, as a society have never faced before. Somewhere along the line it became okay to throw away our filters and say things that we would never (most of us anyways!) say to someone to their face. Today, it's fairly common to see a lack of respect for other's opinions, name-calling, and outright rudeness. Most disturbing of all is the trend to record and post gruesome violent crimes and suicides. Here are some examples of some of the negative side-effects of social media:
Cyber-bullying
Political divisiveness
Under-age children being exposed to inappropriate content
Horrific crimes aired either in real time or as recordings
Fake news
Unwanted advertising
Cybersecurity issues
Traditional Media Regulations
Traditional media such as TV and radio are regulated by the Federal Communications Commission (FCC).  This federal government agency oversees all communications laws and regulations pertaining to television, wire, phone, satellite and cable in the United States, including all U.S. territories and the District of Columbia. The FCC has levied heavy fines to cable and phone companies, TV networks, and celebrities who have violated these laws. Among other things, the FCC regulates these issues:
Offensive language
Obscene material
Sexual content
Unfair trade practices
Licensing applications and violations
Consumer information and education
Other regulatory programs
As social media isn't under any federal or local government regulation most of the inappropriate content isn't filtered or caught before it's posted. Social media outlets rely on their staff and public outcry to remove offensive posts. At that point, its too late—the harm has been done. Additionally, as there are no clear cut regulations for offensive or obscene content on social media, much is left to human discretion. So, what that means for users of social media is, what's offensive to me might not be offensive to you. The attitude on social media is if you don't like it—then leave. But human nature is never content to go with the status quo and is always pushing the boundaries. What might have been considered offensive 5 years ago, is now considered normal.
Even Mark Zuckerburg is advocating for government regulation. From the Wired interview, Zuckerberg said, "There are some really nuanced questions … about how to regulate, which I think are extremely interesting intellectually." He continues in a Washington Post opinion piece, "I believe we need a more active role for governments and regulators." Zuckerberg specifically identified four areas for government regulation:
Harmful content
Election integrity
Privacy
Data portability
In the Washington Post, Zuckerberg also admitted that Facebook holds too much power regulating speech on the internet.
"Lawmakers often tell me we have too much power over speech, and frankly I agree. I've come to believe that we shouldn't make so many important decisions about speech on our own. So we're creating an independent body so people can appeal our decisions."
Social Media and Cybersecurity
Lowering the bar for what is considered acceptable behavior is just one side effect of social media. Another equally dangerous trend is the ease at which cyber-criminals use social media for data mining. Hackers regularly targeted social media such as Facebook to mine their data for users' personal information. Hacker technology is fast out-pacing security measure employed by social media security.
Here's why cyber-hackers love to target social media:
81% of all people in the US have at least one social media account
6 million social network users in the US in 2018
Of the 4.5 billion data records that were hacked in the first half of 2018, 56% were attributed to social media
A report by Gemalto showed that lost, stolen or compromised records increased by 133% in 2018 as compared to the same time frame in 2017
While social media breaches make up less than 1 percent of total incidents, social media has the highest number of records hacked according to Gemalto's Breach Level Index
There are many documented and reported instances of social media hacking.
Is Facebook Having a Mid-Life Crisis?
As the reach and scope of Facebook has grown, so has its responsibilities and its policies. Mark Zuckerberg has flip-flopped on many of the policies implemented to protect users, as circumstances have forced change.
In the past, Facebook asserted that they would begin to de-emphasize their news feed, instead focusing on content from family and friends. Facebook also tried to partner with other media outlets and provide a dedicated news feed, but the project was aborted. In a flip from previous policy, Zuckerberg recently announced Facebook is considering delivering a new offshot exclusively for quality news feeds. While not many details were released, it is speculated that Facebook may pay publishers directly to share their news stories.
Live Streaming of Crimes on Social Media
Another huge challenge facing Facebook is the live murders, suicides, rapes and other crimes. In 2016, Facebook invested millions of dollars in developing this live video platform. Zuckerberg said that live video "create new opportunities for people to come together."
The current policy relies on Facebook staffers or users to report inappropriate content. With the introduction of videos, it is impossible for even Facebook employees to watch a video until it is posted. There have been suggestions that artificial intelligence could be used to help monitor videos. But even that solution is a daunting task. It takes time to train AI to recognize offensive human behavior and there are many complex nuances to human behavior. Will AI be able to tell the difference between real violence being streamed live or a paid ad for a movie trailer for an action movie?
Facebook COO, Sheryl Sandberg said they were "exploring restrictions on who can go Live depending on factors such as prior Community Standard violations." 
Despite the pushback from users and advocate groups, Zuckerberg is resisting implementing a "delay" like the 7-second delay the FCC mandates for television and radio. During an interview with George Stephanopoulos, in response to the New Zealand mass shooting, Zuckerberg defended his live stream policy, stating, "It would also fundamentally break what live streaming is for people." However, Zuckerberg did admit during the interview that a live stream delay could have prevented the wide-spread sharing of the New Zealand mass shooting.
In response to the many live suicides, Facebook has implemented a real-time suicide intervention program to help those who may be considering suicide.
What About Facebook's Policy on Politics?
Facebook recently announced that they are making big changes in how political ads and ads supporting specific issues are presented on their platform. According to a Facebook blog posted by Richard Allan, VP Global Policy Solutions, " We are introducing some new tools to help us deliver on two key goals that experts have told us are important for protecting the integrity of elections — preventing online advertising from being used for foreign interference, and increasing transparency around all forms of political and issue advertising."
Further steps to be taken by Facebook include ensuring transparency for political ads:
All political campaigns must register and complete an authorization process before running their ads
All political ads will be clearly labeled including the "Paid for by" disclosure, allowing the user to see who is paying for the ad, including contact information
These ads will be added to an Ad Library for ease of access and review, with a "See Ad Details" for more detailed information such as how many times the ad was viewed, budget for that ad, and demographics (age, location, gender) of the viewers
Increased scrutiny on ads that are perceived as political but are not labeled so
What About Your Privacy on Social Media?
It's not just Facebook where protecting consumer privacy is at risk. Virtually all social media outlets have had security breaches. And generally, there's a good reason for that. There are no rules for social media. There is no FCC equivalent for social media. Because there are no established set of rules or regulations, and therefore no consequences there is a certain "business as usual" mindset. For years there have been reports of data breaches and a "loosey-goosey" approach to protecting users' private information. No harm..no foul…right? In the past other institutions such as banks, retailers and restaurants have faced lawsuits when their data was breached. Now lawsuits have been filed against many social media companies in order to hold them accountable for any harm done when users' personal information has been compromised. The problem lies not only with data breaches themselves, but with the manner in which social media platforms policies and practices don't protect your personal information to begin with.
Did you know that Facebook:
May terminate your account—sometimes without providing a clear reason
Shares your information with third parties
Uses tracking cookies (whether you're logged into your Facebook account or not)
Allows third parties to track your web usage (to collect data for targeted advertising)
Knowingly allowed and encouraged children to make unapproved purchases for on-line games using their parents' credit card (Class Action suit settled in 2016)
In May of 2018, the European General Data Protection Regulation (GDPR) was created so that there is one set of data protection regulations consistent for all companies operating in the European Union (EU). This infographic helps explain how this new regulation will help protect users in the EU. There is speculation that it won't be too long before this type of regulation will be implemented in the US.
Social Media is Here to Stay
This is by no means an article to bash Facebook or any other social media platform. Social media has really revolutionized how we communicate and isn't going away! However, along with the good—we must also look at the not so good. It is in our best interest to learn and understand the challenges that social media has presented. Then we are better equipped to deal with them on a personal level and take personal responsibility. But we must also hold the creators and owners of these social media companies accountable for the problems that inevitably arise. And remember—this technology is changing at the speed of light!
So, what's your opinion—should the government regulate social media? While we have no control over the future of social media, we can help you have some control over your company's cyber security and help to protect your data. Contact the Managed IT Services experts or call 720.724.7730 to talk an experienced IT consultant today.
https://sprysquared.com/wp-content/uploads/2019/04/social-media-web.jpg
857
1290
Spry Squared
https://sprysquared.com///wp-content/uploads/2017/12/S2-Logo-Horizontal-Color-Primary-Gradient-300x96-300x96.jpg
Spry Squared
2019-04-08 16:22:49
2019-04-08 17:04:48
Technology and Marketing are Changing at the Speed of Light and Social Media is Driving the Change