Your job search begins by looking for the right position. Then, you send in a resume and wait, sometimes never getting a reply. Could it be your resume is the reason your phone isn't ringing? Is it the content? Possibly. But it could be that your resume isn't making a very good first impression.
"Most people realize they only have one chance to make a first impression," said Karie Gunning, Director of Talent Management for Spry Squared, Inc. "What they don't realize, though, is that their first impression is their resume. When a recruiter or hiring manager opens a resume, those first few seconds are critical. If the font is difficult to read, then recruiters or hiring managers are more likely to move on."
There are many decisions that go along with searching for a new job. But one of the easiest to master is how your resume looks and that includes your choice of font. While there are literally thousands of fonts, in reality, there are but a few that recruiters and hiring managers rely on to get candidates to the next level.
"You'll want to make sure, whatever font you choose, that it is scannable and easy to read," Gunning said. "Aside from the content, scannable and easy to read are two of the most important aspects of a good resume."
Which font is right for you?
Fonts fall into two distinct categories: Serif and Sans Serif. Each has its own set of characteristics. For instance, Serif typefaces have decorative strokes that extend from each letter. Many call these "feet." Sans Serif fonts don't have these strokes. Serif typefaces are among the oldest in existence. Sans Serif fonts are considered more modern.
So which fonts are best for your job search? Here's our top 15 list along with brief explanations of why these fonts will give you an edge in your job search and may help you advance to the next level.
Calibri (Sans Serif) — an excellent option for a safe, universally readable sans-serif font. Hiring managers especially like how smooth this font renders on computer screens. This modern font is also the default font of many email programs, so it's familiar to the eye of many a hiring manager. At 12-point it should produce 500 to 750 words on a two-page resume, making it the perfect size.
Cambria (Serif) – Microsoft commissioned Dutch typeface designer Jelle Bosma for this typeface back in 2004. Since then, it's been one of the main fonts distributed with Microsoft's Windows and Office products. It was designed especially for on-screen reading. One of its strong suits is it scales well and looks good even at a smaller resolution such as 8- or even 6-point.
Verdana (Sans Serif) – Another Microsoft commissioned font, but back in 1996. Verdana is known for being a clean and modern font that's even easier to read because of the slightly wider spacing. Verdana was designed to be readable at small sizes on the low-resolution computer screens of the period. The bold weight of Verdana is thicker than would be normal with fonts for print use, suiting the limitations of onscreen display.
Garamond (Serif) – this font is named for its developer, the 16th-century French type designer Claude Garamont. Garamond is a group of many old-style serif typefaces. Today, the most common digital font named Garamond is Monotype Garamond. This typeface was developed in the early 1920s and has been bundled with many Microsoft products for quite some time now. Those seeking positions in academia might consider this typeface instead of the others.
Didot (Serif) – Those in creative industries such as fashion or photography should seriously consider using this font. The most famous Didot typefaces were developed by the Didot family in France between 1784–1811. This font is specifically styled for style and sophistication. A recent Canva Design School blog post called this serif font "distinctive and classy," praising its upscale look.
Gill Sans (Sans Serif) – Simple, yet sophisticated. Gill Sans was designed in England in the 1920s. As such, this font is widely used in England. This font was originally intended as a display typeface that could be used for posters and advertisements. It has morphed into one that is appropriate for all types of documents. With this font, you'll get a look both classic and modern, surely setting your resume apart. This font is currently distributed with Mac OS X and some Microsoft products. You'll most likely find it as Gill Sans MT.
 Georgia (Serif) — If you want a traditional-looking alternative to the oft-overused Times New Roman, consider switching to Georgia. This is another typeface commissioned by Microsoft. This one, back in 1993. The intent was to develop a serif font that would be elegant but legible when printed on smaller, lower resolution screens that were popular in the early 1990s. A Colorado Technical University infographic on Mashable recommended using Georgia because of its readability.

"The right font can make your resume stand out above all the rest," said Stephen Spry, co-founder and Vice President/COO of Spry Squared, Inc. "After all, isn't that the goal? A crisply written, visually attractive resume tells recruiters you have a lot going for you. They'll remember that and will want to push your resume to the top."

Helvetica (Sans Serif) — This clean, modern, sans-serif font is a favorite among designers and typographers. Wikipedia describes Helvetica as "a neo-grotesque or realist design, one influenced by the famous 19th-century typeface Akzidenz-Grotesk and other German and Swiss designs. Its use became a hallmark of the International Typographic Style that emerged from the work of Swiss designers in the 1950s and 60s, becoming one of the most popular typefaces of the 20th century." It is still widely popular today, appearing in numerous corporate brand logos (Jeep, Panasonic and Lufthansa, among others) and even on New York City subway signs. In an article on Bloomberg Business, typography expert Brian Hoff of Brian Hoff Design described it as "professional, lighthearted and honest," noting that it reads as "business-y." Helvetica comes preloaded on Macs, but PC users will need to download it from the web.
Book Antiqua (Serif) – has its origins as a roman typeface. It is based on pen-drawn letters from the Italian Renaissance. This typeface has a distinctive and gentle style that is great for anyone looking to use a serif font without having to rely on the oft-maligned Times New Roman. Since it's readily available on Microsoft machines, this typeface will be easily read on a screen, making it easier for hiring managers and recruiters to learn more about you.
Trebuchet MS (Sans Serif) – Another Microsoft creation back in 1996. This typeface has an interesting backstory. It was developed by Vincent Connare and named after the trebuchet, a medieval siege engine. As the story goes, the name was inspired by a puzzle question that Connare heard at Microsoft headquarters: "Can you make a trebuchet that could launch a person from main campus to the new consumer campus about a mile away? Mathematically, is it possible and how?" Connare "thought that would be a great name for a font that launches words across the Internet." Job seekers who want a sans-serif typeface but don't want to use Arial or Verdana can switch to Trebuchet MS. Hiring managers like this font because it is textured and modern looking, unlike other, more traditional fonts.
Goudy Old Style (Serif) – This typeface, which dates to 1915, is suitable for text and display applications. Goudy Old Style matches the historicist trend of American printing in the early twentieth century, taking inspiration from the printing of the Italian Renaissance. Named for its designer, Frederic W. Goudy, who designed more than 100 typefaces. This font is his best-known design. Goudy said he was initially inspired by the cap lettering on a Renaissance painting. This font will give your resume a flair that other fonts can't provide.
Tahoma (Sans Serif) – Very similar to Verdana, but with a narrower body, smaller counters, much tighter letter spacing, and a more complete Unicode character set. Designed for Microsoft's Windows 95 product, Tahoma remains one of Microsoft's most popular sans serif typeface families. Original Tahoma consisted of just two Windows TrueType fonts, regular and bold. Now there are four fonts in this family: Tahoma regular, italic, bold and bold italic. Tahoma is ideal for use in situations requiring the presentation of information on the screen.
Lucida Sans (Serif/Sans Serif) – This is a font family, meaning there are many variations. It was designed by Charles Bigelow and Kris Holmes and began to be released in 1984. The family is intended to be extremely legible when printed at small sizes or displayed on a low-resolution display – hence the name, from 'lucid' (clear or easy to understand). The family has both serif and sans serif characters. Lucida is suitable for books/text, documentation/business reports, posters, advertisement, multimedia and, of course, resumes.
Bookman Old Style (Serif) — According to linotype.com, the origins of Bookman Old Style lie in the typeface called Oldstyle Antique, designed by A C Phemister circa 1858 for the Miller and Richard foundry in Edinburgh, Scotland. Many American foundries made versions of this type which eventually became known as Bookman. This is a legible and robust text face. A serif typeface, it is known for being a wide and legible design. It was particularly popular in the 1960s and 1970s but is enjoying a renaissance in the early 21st Century.
Constantia (Serif) — Constantia is a serif font suited for text in both electronic and paper publishing. The design responds to the recent narrowing of the gap between screen readability and traditional print media. The typeface was designed by John Hudson and commissioned by Microsoft. It is relatively new, having been released in 2006. Constantia is part of the ClearType Font Collection, a suite of fonts from various designers released with Windows Vista. All start with the letter C to reflect that they were designed to work well with Microsoft's ClearType text rendering system, a text rendering engine designed to make text clearer to read on LCD monitors. The other fonts in the suite are Calibri, Cambria, Candara, Consolas and Corbel. Explaining its name, Hudson wrote: "I can't remember all the possible names I came up with, each of which ended up rejected after international trademark searches…I'd been singing some psalms during vespers and noticed the word Constantia. Hey, I thought, that starts with C!" Writing in 2011, Hudson commented, "I actually don't like the name Constantia very much, and every time I see the seabirds on the dock while I'm waiting for the ferry. I wish I'd thought to call it Cormorant."
More Resume Writing Tips
As you prepare your resume, feel free to experiment with these various fonts to see which one would work best for you. And, if none of these are to your liking, there are other fonts you can also consider. Some of those are: Bell MT, Bodoni MT, and Century Gothic.
And remember, there are other factors to consider besides font. You should also be aware of the size of your font and the formatting of your entire resume.
You'll probably want to stick with 10-point for your typeface. Some experts suggest using 11-point as the sweet spot. And, most certainly, you will not want to go any larger than 12-point for the body text of your resume. Avoid using an 8-point typeface. It is too hard to read and most Applicant Tracking Systems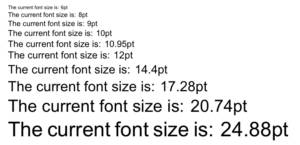 (ATS) won't be able to read it. As for headings, those should be proportionate to your body text and large enough to stand out. Many experts suggest going as high as 16-point for your headings, but most experts suggest using 14-point as the maximum. Also, feel free to use underlining to showcase any other text you'd like to highlight. Use bold for headlines and sparingly otherwise. After all, you don't want a resume full of bold-faced type. A bold-faced font is very hard to read, and your resume may not make it past the recruiter.
Don't forget to consider the job when putting the final touches on your resume. Every job for which you are applying should get your full attention. That means you should tailor your resume to match each job. Don't forget to research the appropriate keywords in regards to each job. This will ensure you make it past the bots controlling the ATS many employers use these days.
And remember, sometimes you can benefit from the use of a less popular font. For instance, if you're looking to get into a more creative field, it might be acceptable to use more unconventional fonts.
Spry Squared, Inc. Is Here To Help
So now you have a good understanding of how a font may impact the first impression your resume will make. But selecting the perfect font is just the beginning. After all, the goal is to pique the interest of the hiring manager, so you can get an interview. After all, the interview is where you'll shine and show the skills that will make that employer want to hire you.
While there are many recruiting firms out there, Spry Squared, Inc. stands out among them with superior service and dedication. With attention to detail and hands-on attention, you can be assured you have aligned yourself with a staff that will go above and beyond to help you in your job search. To learn more about available job opportunities, please visit Spry Squared, Inc.'s careers section.
https://sprysquared.com/wp-content/uploads/2019/01/font-example-1440x720.jpg
720
1440
Spry Squared
https://sprysquared.com///wp-content/uploads/2017/12/S2-Logo-Horizontal-Color-Primary-Gradient-300x96-300x96.jpg
Spry Squared
2019-01-17 12:37:21
2019-01-17 13:12:04
Resume Writing Tips: What's the best font to use and why